I had a nice Manfrotto 055B with a 029 head.
I still have a Velbon carbon tripod with a Velbon head, which is way better than it's entitled to be. For all practical purposes, it's every bit as good as the Manfrotto was, but lighter.
Problem is, I rarely carried either of the two. Too long when folded, too cumbersome.
When I got me a motorcycle, the "too long when folded" bit became painfully evident. This bike has a pass-through-facility between the left and right bags, which is often called the baguette hole.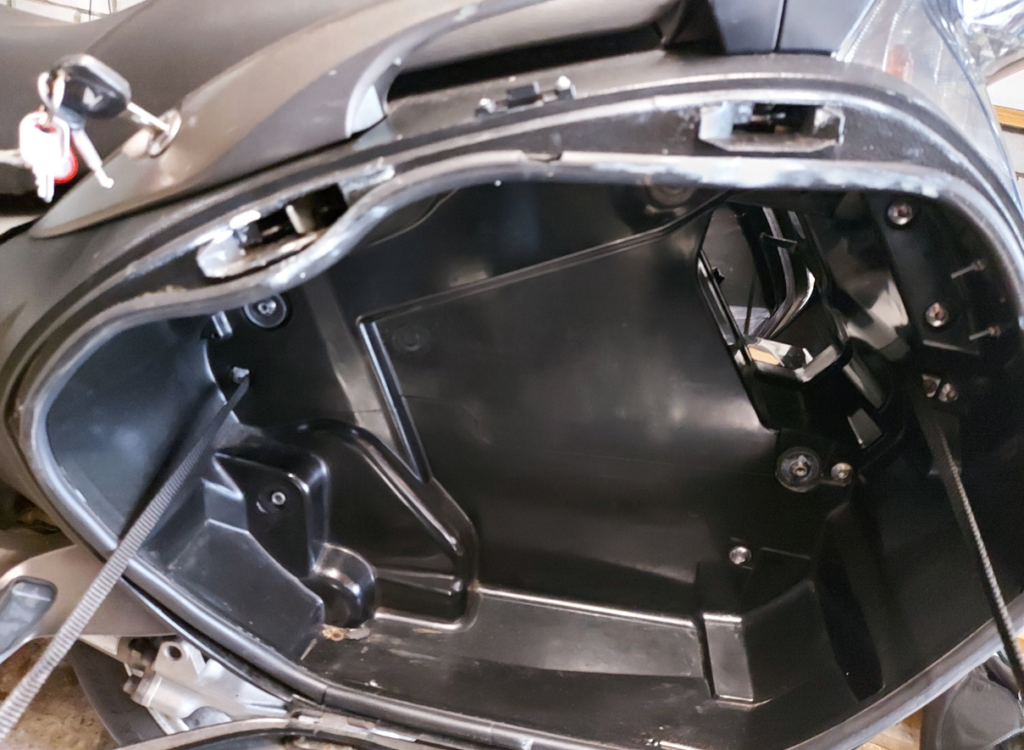 So I thought, hey, I can shove my tripod in there!
Unfortunately, tripod said no. When folded, it was too long. Same with my monopod.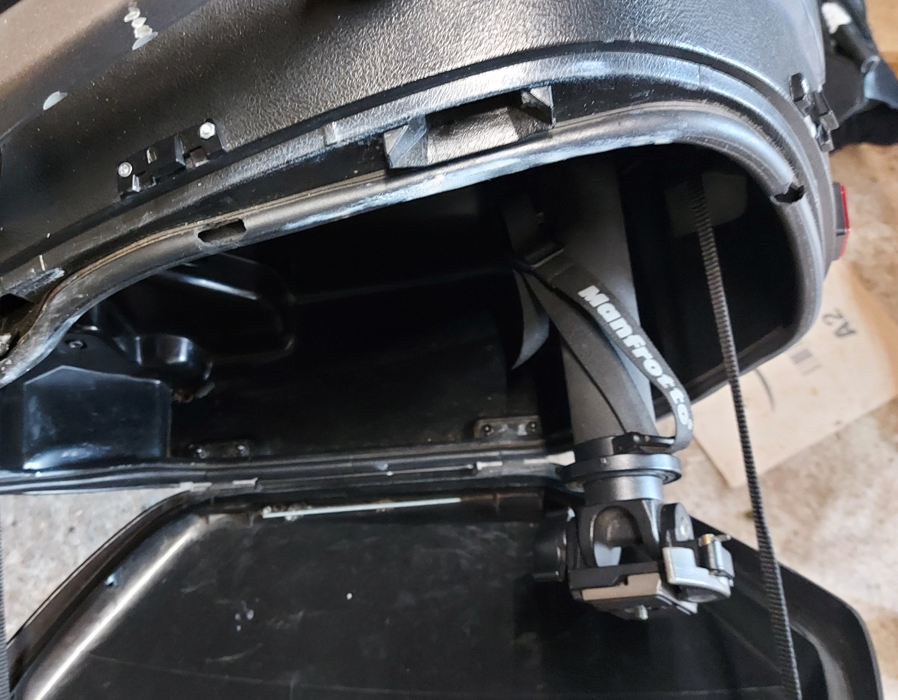 OK, so I needed a tripod that would fit, and I would also like a monopod that would fit. Preferably lightweight, and short when folded, so I'd be looking at a travel tripod. I would want it to stand up to ca. 145cm without extending the center column, and I would love flip locks.
Luckily, social media bombarded me with adverts. Primarily from K&F Concepts. who were selling a slew of tripods fitting the bill, and (bliss!) would also convert into a monopod! But it turned out that others were selling similar tripods. Since the K&F sales organisation did not particularly impress me (shipment from Hong Kong, so taxes and VAT due once the package enters the EU), I decided to look further.
On Amazon, I found a Smallrig Selection 200, which ticked almost all my boxes, including a box I didn't know I had (more on that later). So I thought, considering Amazon's return policy, I'd give that a go.
[EDIT: I just discovered that K&F is selling the exact same tripod, for about the same amount! I suppose there's indeed a factory out there in China that is churning these out, and K&F as well as Smallrig are sticking their own trade name on it.]
When it arrived and I unpacked it, it looked… flimsier than I expected.
When I set it up and put a fairly sturdy camera (a Dynax 7 with a VC7 grip, with a 70-210 f4 beercan, which does not have a tripod mount) on it, it appeared to be more stable than I expected when I unpacked it.
So far so good… this looks like a tripod that I actually wouldn't mind one bit dragging along. At something like 1500 grams, it's light enough for me to hardly notice it; it fits easily inside the pass-through bit between the bags on the bike, and it includes a monopod which gets plenty high enough even if I use only two of the three segments.
It comes with a ball head (carrying an Arca-Swiss-compatible bottom plate) that is specified to be capable of carrying 8 kilos according to Amazon, or 5 to 15 kilos, according to the manual… which is interesting — is 5 kilos a lower limit or something?
The manual, by the way, looks like Google Translate played a role in generating it. Most of the English is correct, but sometimes without making sense.
Anyway, putting the Dynax 800si with vertical grip and the beercan on it posed no problem, and also when I put the Bigma (a 50-500mm piece of artillery, with its own tripod mount) and hung the Dynax 7, also with vertical grip, on the back of the Bigma, the ball head remained entirely unimpressed.
The ball head has three spirit levels, which work just fine, and the knobs run smoothly and tighten positively.
The flip locks lock tightly and with a positive click.
So no problems there.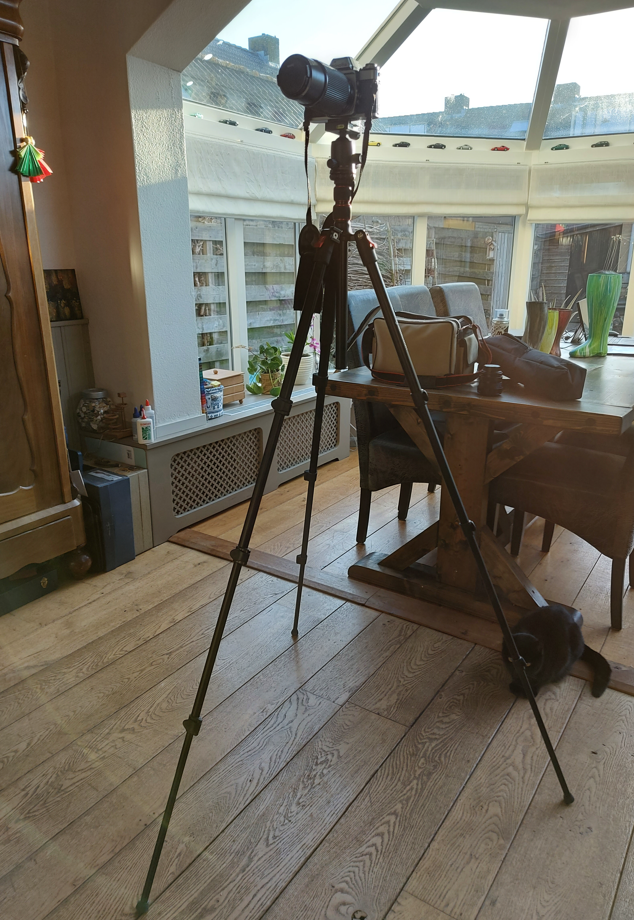 The height without extending the center column is just right for me. Mind you, to Dutch standards, I'm fairly short at 5'9″.
Folded, it's about 50 cm. This'll fit nicely into the abovementioned baguette hole, with room to spare. It's also small enough to comfortably fit to the lid of my Lowepro camera backpack.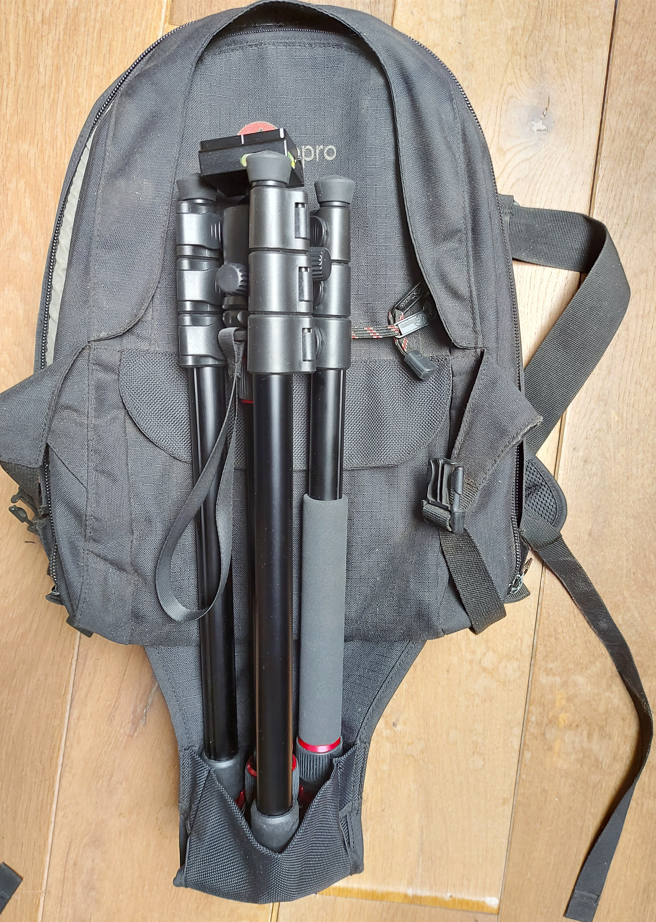 Supplied accessories
It comes with a phone holder, two (nice touch!) Arca Swiss-compatible mounting plates, three spikes which can replace the rubber feet (I'd like it if the rubber feet would retract to expose the spikes), a set of metric allen keys (3, 4 and 5mm), and a carrying bag — which is nice for when I shove it into the baguette hole.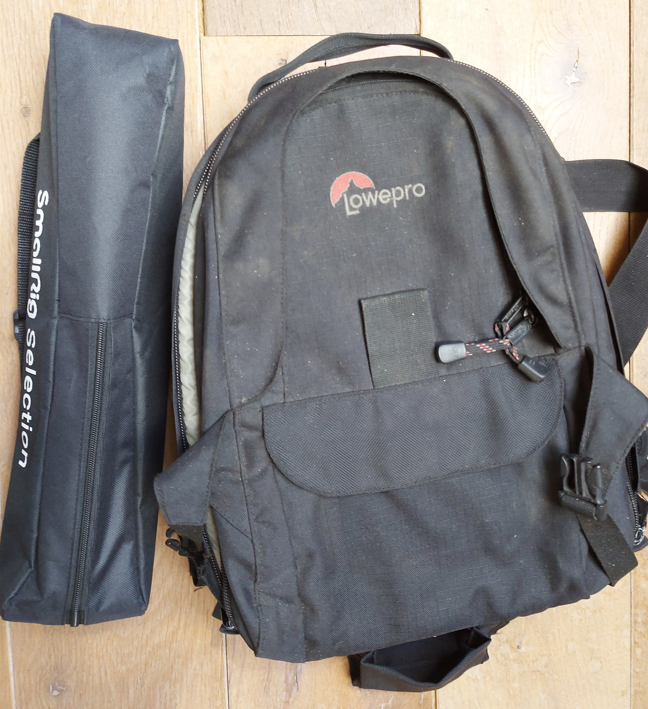 Setting it up
That's not too hard. Take it out of the bag, unfold the legs, lower the center post (it's extended when folded), extend the legs, and you're set.
If you want to use the monopod, you unscrew the monopod leg, which exposes a 3/8″ thread. You could put the ball head straight on that, but that will make you bend down to use the camera on it. But if you take off the first half of the center column, you can raise it up to eye level. For my 5'9″, I can then leave the lowest of the three leg segments in to get a comfortable height.
The centre column comes with the obligatory hook that you can hang something heavy off to stabilise the plot. This is probably a good idea. This thing is considerably easier to topple over than, say, a Manfrotto 058.
Breaking it down
That'll be a bit of a puzzle the first time you do it.
Extend the bottom half of the center column, press the red locking lever of the leg, and turn the leg all the way up so that it lies parallel to the center column, and repeat this for the other two legs (I bet you saw that coming).
The puzzle is to get the legs to fit as snugly as possible. There are three locking knobs on the ball head base that want to get in the way, so you'll have to find just the right position, and then of course there's the base plate on top of the ball head that may have to be rotated so that it doesn't interfere with the rubber feet on the legs.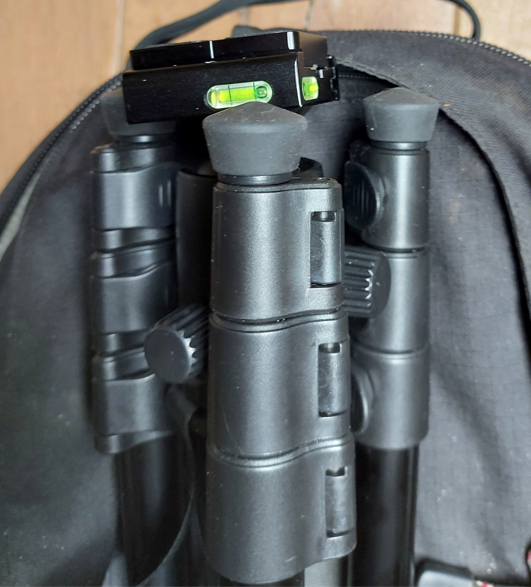 But once you get the hang of it, it's something you could probably do in your sleep.
An unexpected feature – mounting a cold shoe
The hinge of the legs hold an interesting surprise: the nut side has a 1/4″ thread to attach accessories!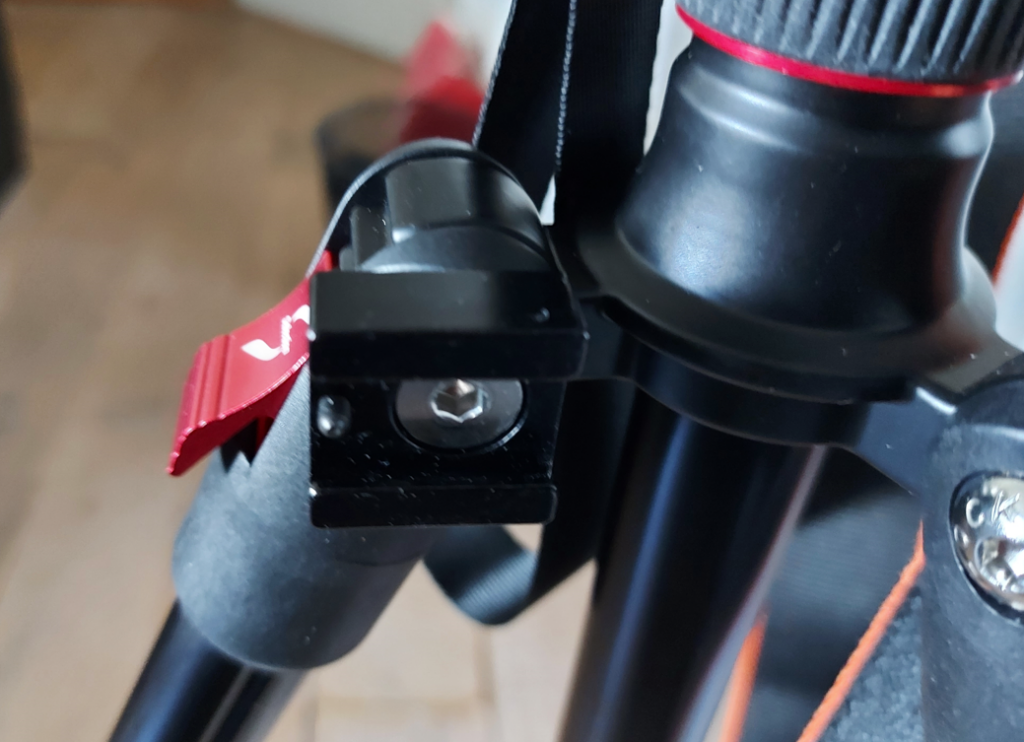 As you can see, I used this to mount a cold shoe so that I can hook up the microphone when I'm using the tripod for filming… like so: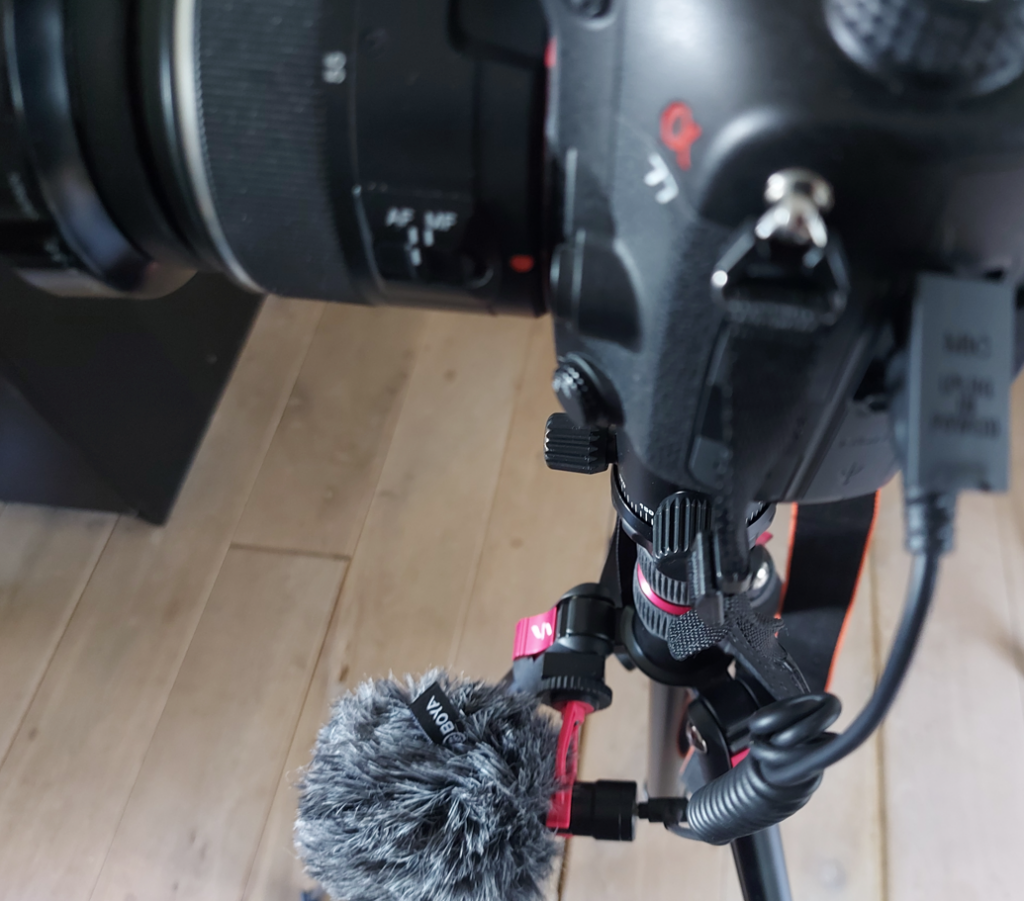 I know I could put this on top of the camera, but then it would interfere with the display that I'd flip up in order to see it when I'm filming myself explaining things… or playing bass or whatever.
"So… you happy with it?"
Yes, I am. This is a keeper.
Mind you, I'm not saying this is the best; I haven't done a comparative analysis on all of them… there may well be other Chinese travel tripods with comparable specs that are just as good or better. What I'm saying is that it met my expectations.
I'm pretty sure this isn't going to be the last word in stability. I'm definitely keeping the Velbon for use in a studio situation. It's more versatile, and more stable.
But this is so easy to take along, it'll cover me in situations where I'd normally leave the house without a tripod, only to regret it later.
If I have time to waste, I might experiment with putting my Alpha 900, which is fairly heavy in combination with the vertical grip, on top of it, hook up the 85/f1.4 (by far the sharpest lens that I have), and then shoot a couple test cards, using the remote at 1/15 and 1/8, and compare those to the same shots made with the Velbon… just to see if the camera induces enough vibration to get any noticeable loss of sharpness.
There are a few things I'd have liked to be different — I'd have liked an arrangement in which the rubber feet would be retractable, exposing spikes, rather than having to interchange rubber feet and spikes. But that's not a biggie — I've actually hardly ever felt the need for spikes.
Another thing is, when I first got it, I did need to tighten up the bolts of the leg hinges, and I suspect that, in usage, they'll gradually come loose again. So I'll have to keep at least the 4mm allen key that was supplied as an accessory in the bag.