A year or so ago, I got myself a cheap action cam – a Vizu Extreme X6s, which is capable of 4K or full HD with 60 fps, for the sum of 60 euros. Pretty entry-level, but still decent. I got it for use on the bicycle, but never got around to it.
But two weeks ago, I had a brilliant winter's commute home on the Deauvile, with a rising full moon in the early evening sky, and I felt really sorry not to have it ready. and I've now mounted it on the helmet, and took the thing for a spin yesterday.
Where to put it
There are two options: on the bike, or on the rider.
On the bike would probably be a more stable image, and it might show the bank angle in corners more accurately, but it's quite static, and doesn't show the same experience as the rider has. Quite often, you'll see the camera mounted to the helmet, so I decided to go that route.
I might get some additional bases and see if I can mount it to the front of the fairing as well — probably on the screen, just above the headlight.
How to mount it
First of all, you do not want to drill in your helmet, so you're going to try to stick it on. 3M makes sticky stuff that's intended (and apparently succeeding) to not come off, and most helmet-mounting accessories include this. There are no reviews indicating that it did come off for anyone, so for now, I'll trust that to be ok.
In case you'd want to take it off later, that is in fact a piece of cake: heat it with a hair dryer for a minute or three, so that the sticky pad gets gooey, and then you can peel it right off. Tried that, it works.
Most mounting bases are … I think it would be called GoPro-compatible, but I'm not sure. The mounting base you stick onto your helmet is very likely to need some curvature, so make sure that whatever mounting material you get includes a slightly curved mount.
After reading the reviews, the one I ended up getting was this kit, from Amazon, for a little over 14 euros.
I cleaned the mounting area with isopropyl alcohol, had it evaporate, stuck the base into position, and had it harden out for 24 hours, and without the use of a hair dryer, it's not possible to get it off.
Here is what it looks like when the camera is mounted: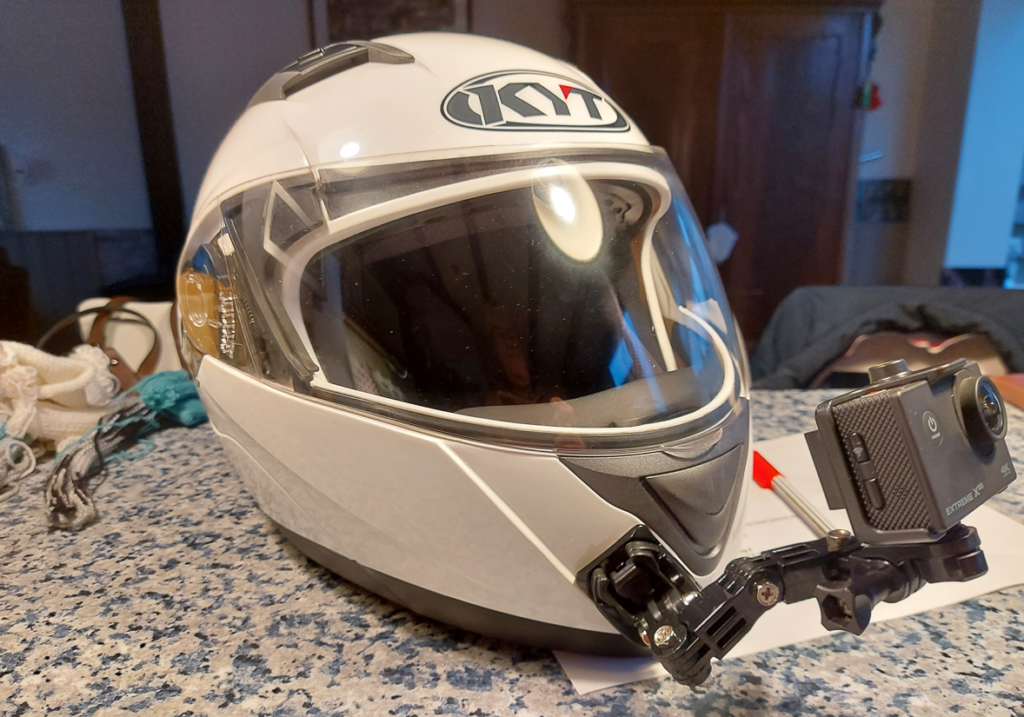 Like this, it looks like it's set up to monitor incoming flights… but when you wear the helmet, it's pretty much looking straight ahead.
And when you take it off, this is what remains: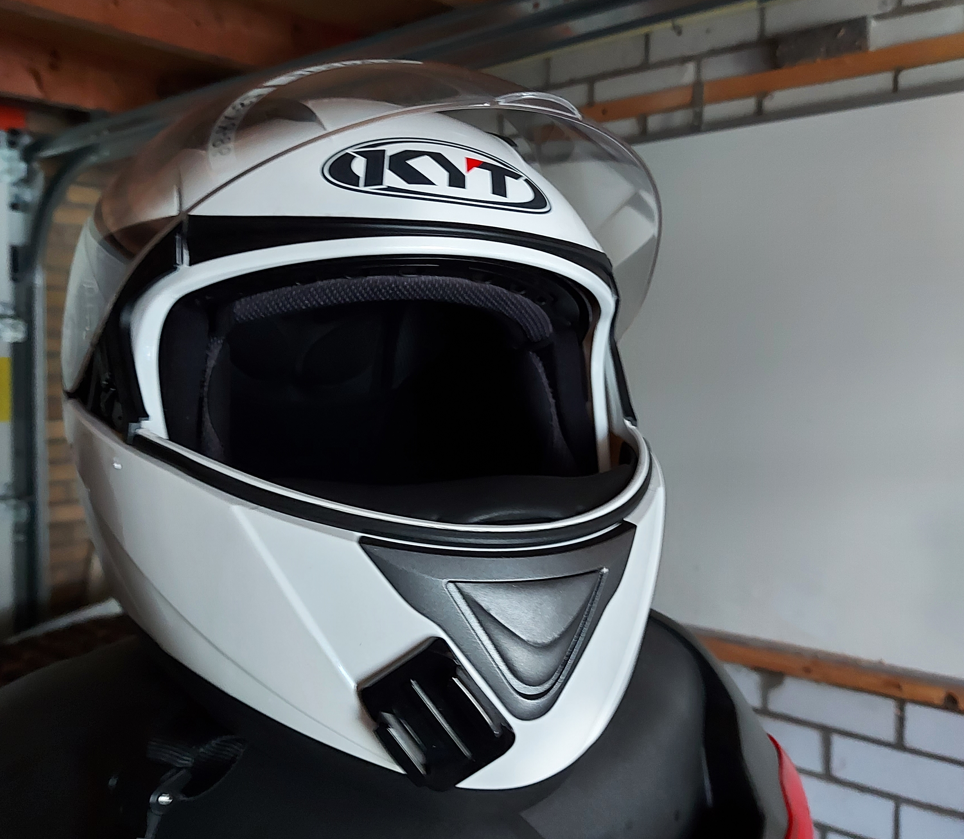 It may look like that's gonna move around with no less than four hinges, but it doesn't! The "GoPro-compatible"(?) mounting system offers plenty friction, so you don't need to tighten the bolts like crazy.
So… show me a result already!
Well, here you go. First edited attempt; I'll probably put a better one here when I have one.